Get to know your mental and creative abilities and personality traits.
The TALENT genetic passport will determine the potential of mental abilities and personal characteristics in order to SELECT a successful direction and profession.
93,900 tenge
ORDER
WHAT IS TALENT?
What is encoded in our genome makes us special and different from other people. Our genes contain the prerequisites for the development of many qualities, including various kinds of talents.
Talent is a person's outstanding innate abilities, his potential, which with time and the right approach can be developed and realized.
Talent is a multifaceted component of personality traits, intelligence, and creativity. Each person can have one or many outstanding abilities, for which dozens of genes are responsible.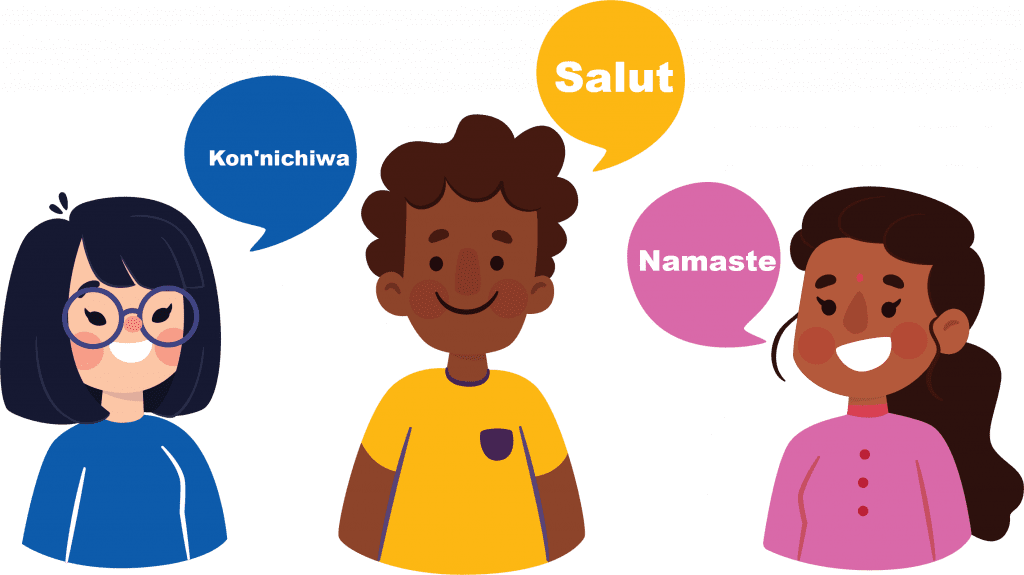 DO YOU NEED A MORE DETAILED CONSULTATION?
Write down your phone number and we'll get back to you
WHO DOES YOU NEED
GENETIC PASSPORT TALENTS?
The TALENT genetic passport will be useful primarily for children of all ages, as well as for adults who want to change careers or just learn more about themselves.
TODDLERS
Surely you know that in the early years of life your child lays the basic knowledge base of skills and abilities, this period should not be missed and many parents are trying to give as much as possible and understand what the child has aptitude for, for example, singing, drawing or learning languages!
Genetic test will help you find out everything at once, and most importantly, better understand your baby and help him from an early age to realize his potential!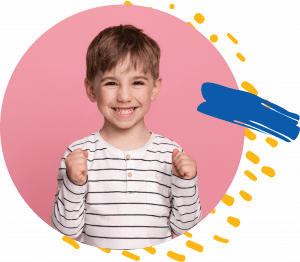 TO SCHOOLS
A genetic analysis will help to direct energy in the right direction, to choose additional activities that really suit the child, will be an investment in his development and help unlock his talents for a successful future.
And also this analysis is necessary especially for parents who, for example, very demanding to study and the child one thing well does not work, perhaps the reason in the genes and do not torture yourself and the child, getting the results you will all understand what, why and how, and what is better!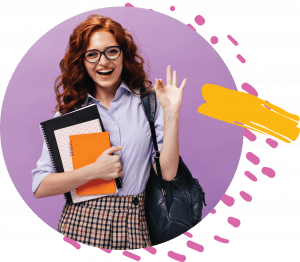 TO YOUNG PEOPLE
This test is intended to help you choose a profession, to understand what is best to do in life, your strengths and weaknesses. This question certainly worries a lot of people, and there are even special centers that help with the choice of profession.
And the genetic study is very clear, and there is even a list of professions in which the child will be most successful.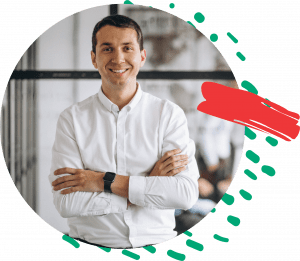 ADULT
If you are thinking about a career change, looking for yourself, this test will answer many of your questions, set the right direction and help you understand your characteristics.
SECTION 1.
MENTAL ABILITIES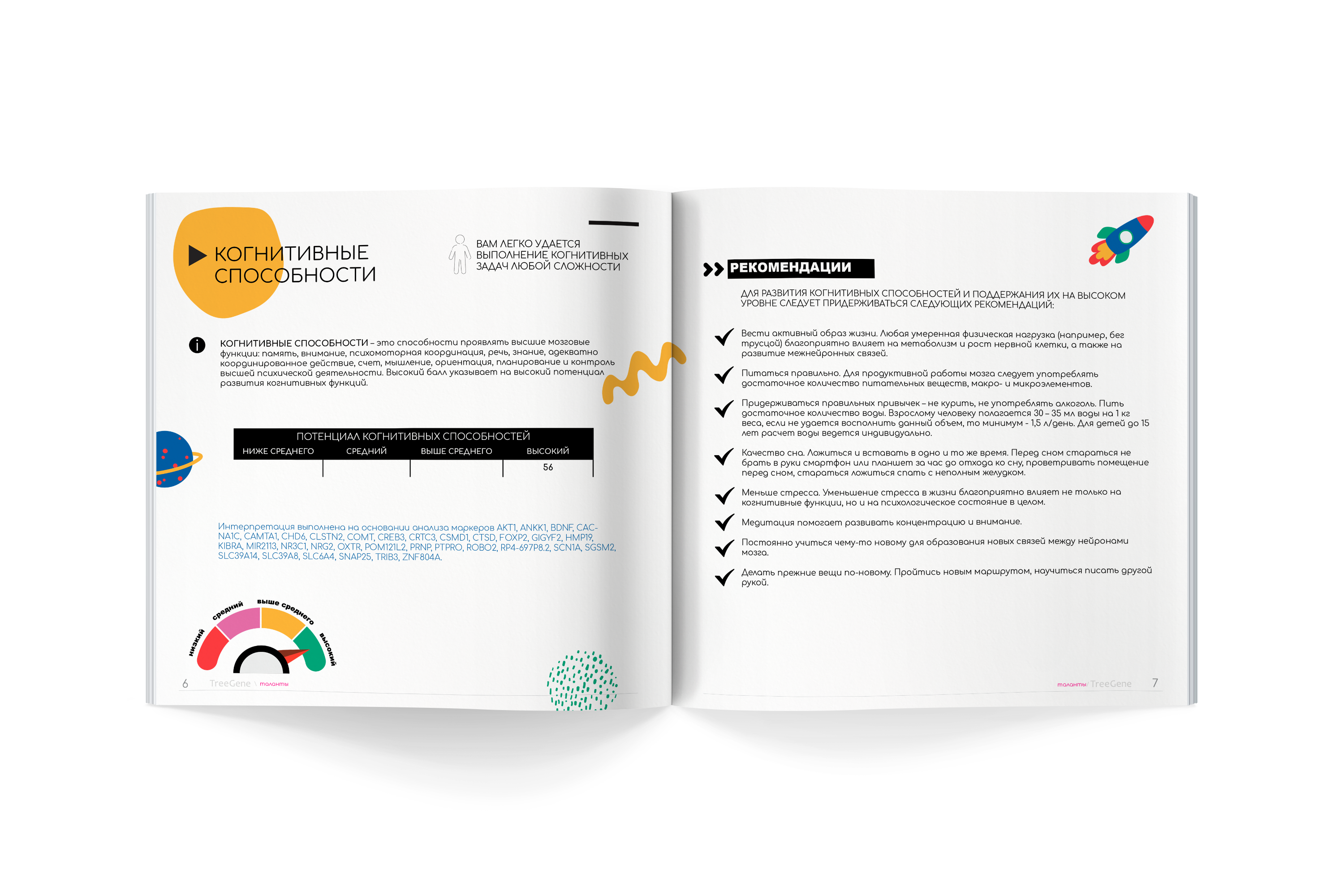 1. COGNITIVE ABILITIES
Cognitive abilities are abilities to manifest higher brain functions: memory, attention, psychomotor coordination, speech, knowledge, adequately coordinated action, counting, thinking, orientation, planning and control of higher mental activity.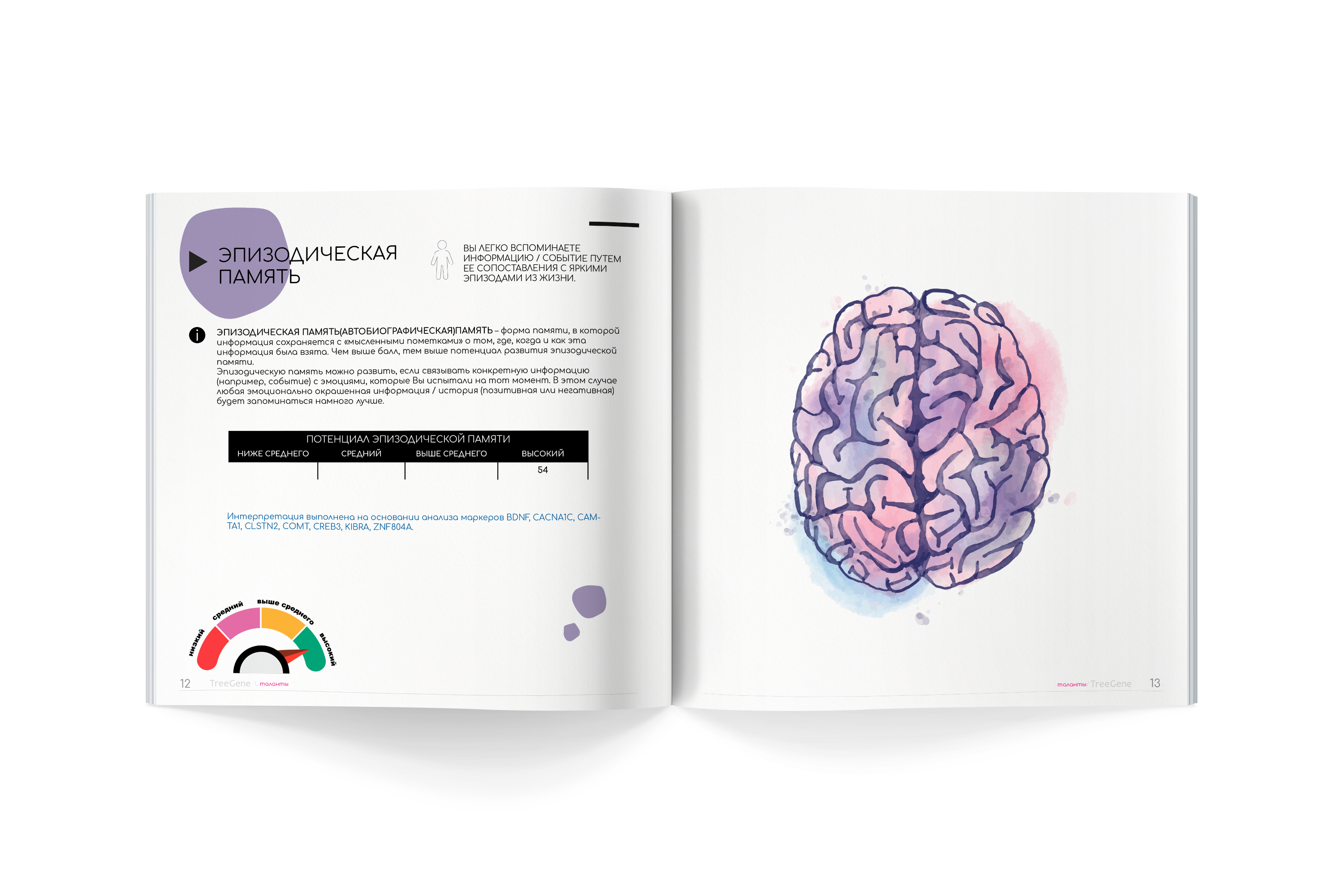 2. MEMORY
General memory is a complex of cognitive abilities and higher mental functions for accumulation, preservation and reproduction of knowledge and skills.
Verbal memory is the memory of textual information from books, social media, and magazines, through which events, knowledge, and skills are retrieved. A high verbal memory score indicates the ability to more accurately reproduce the information you read.
Working memory is a type of memory that defines the ability to "hold in your mind" small pieces of information needed for momentary thinking activities, such as solving a logical problem, analyzing data, or understanding complex information. Working memory also plays a key role in concentration and attention.
Episodic memory (autobiographical memory) is a form of memory in which information is stored with "mental notes" about where, when, and how the information was taken.
Short-term memory is a type of memory in which information is stored for 20-30 seconds.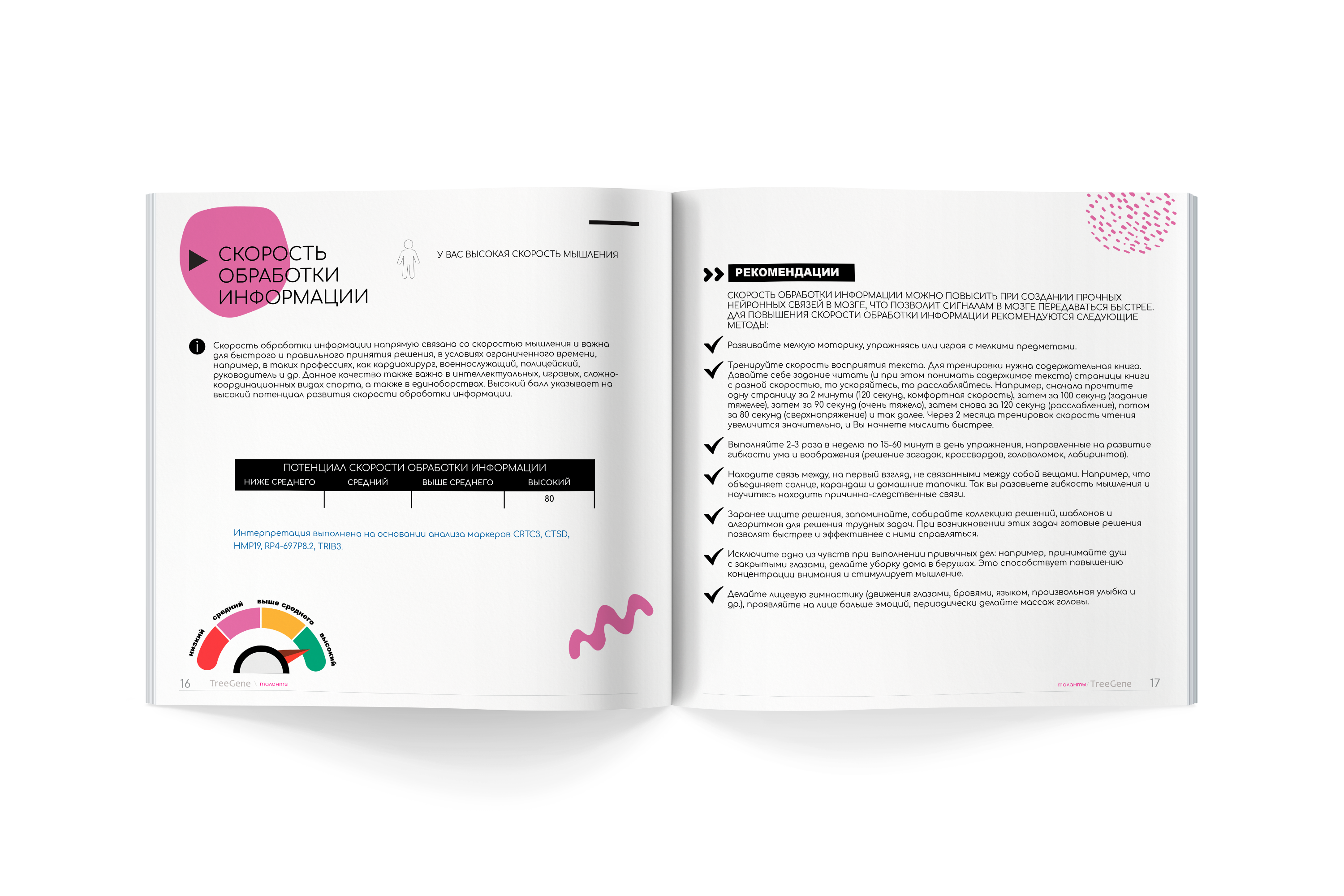 3. INFORMATION PROCESSING SPEED
The speed of information processing is directly related to the speed of thinking and is important for quick and correct decision making, under time constraints, for example in professions such as cardiac surgeon, soldier, police officer, manager, etc.
SECTION 2.
PROFESSIONAL SKILLS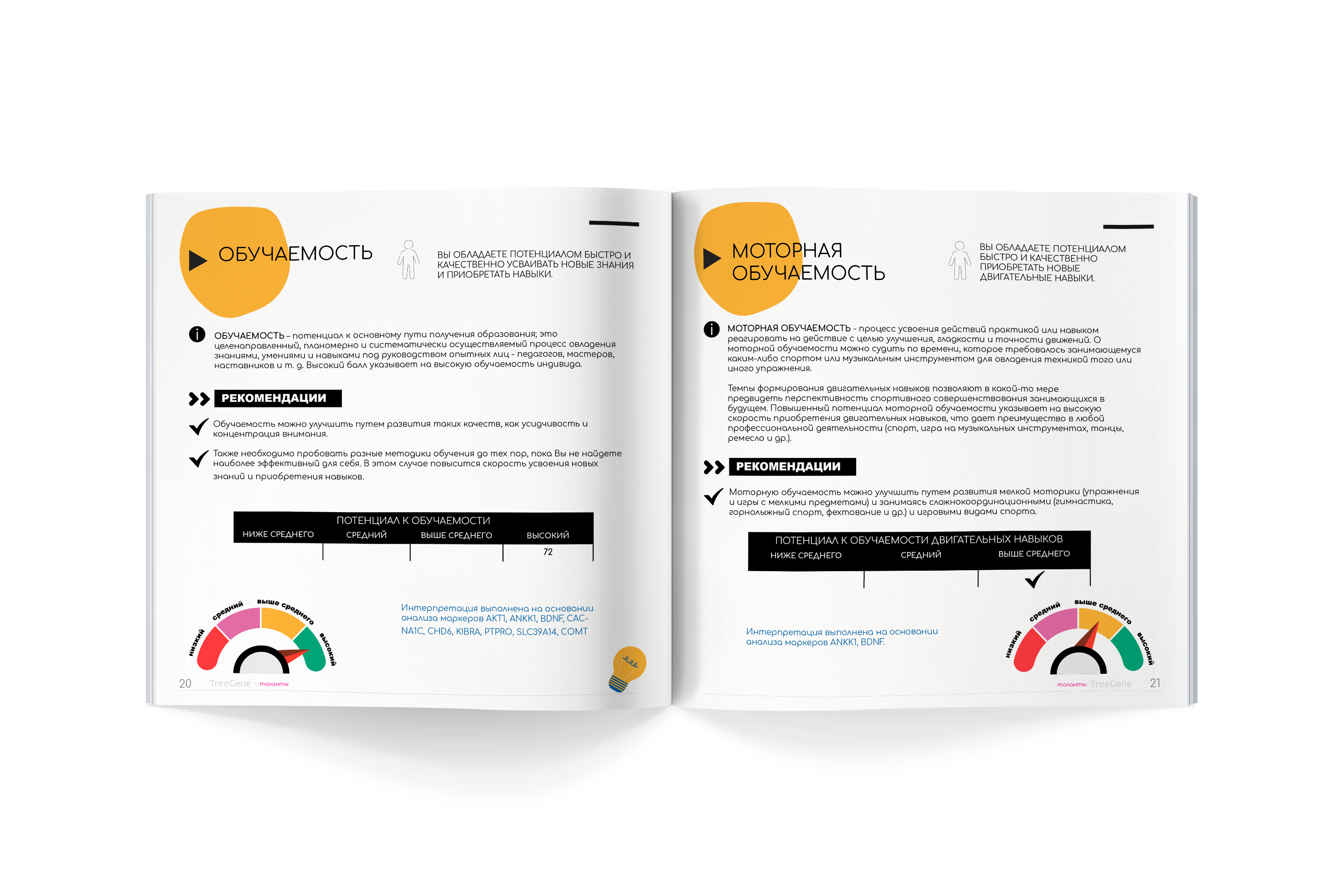 1.
Learning is the potential to the main path of education; it is a purposeful, planned and systematic process of mastering knowledge, skills and abilities under the guidance of experienced individuals - teachers, masters, mentors, etc.
Motor learning is the process of learning actions by practice or skill to respond to an action in order to improve, smoothness and accuracy of movements.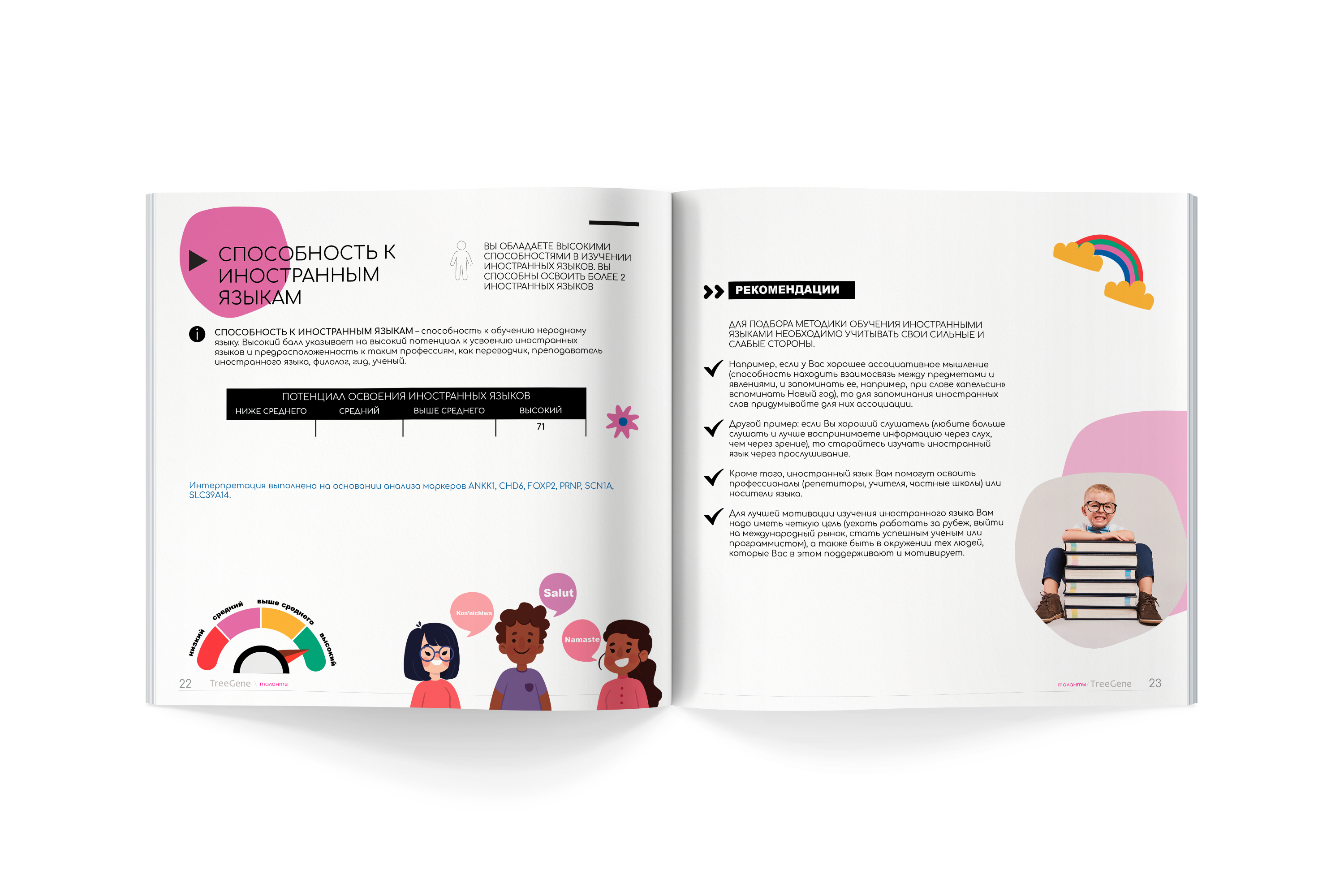 2. FOREIGN LANGUAGES
Foreign language ability - the ability to learn a non-native language.
3. MATHEMATICAL ABILITY
Mathematical ability is a trait that allows relatively fast, easy and deep learning of knowledge, skills and abilities in the field of mathematics.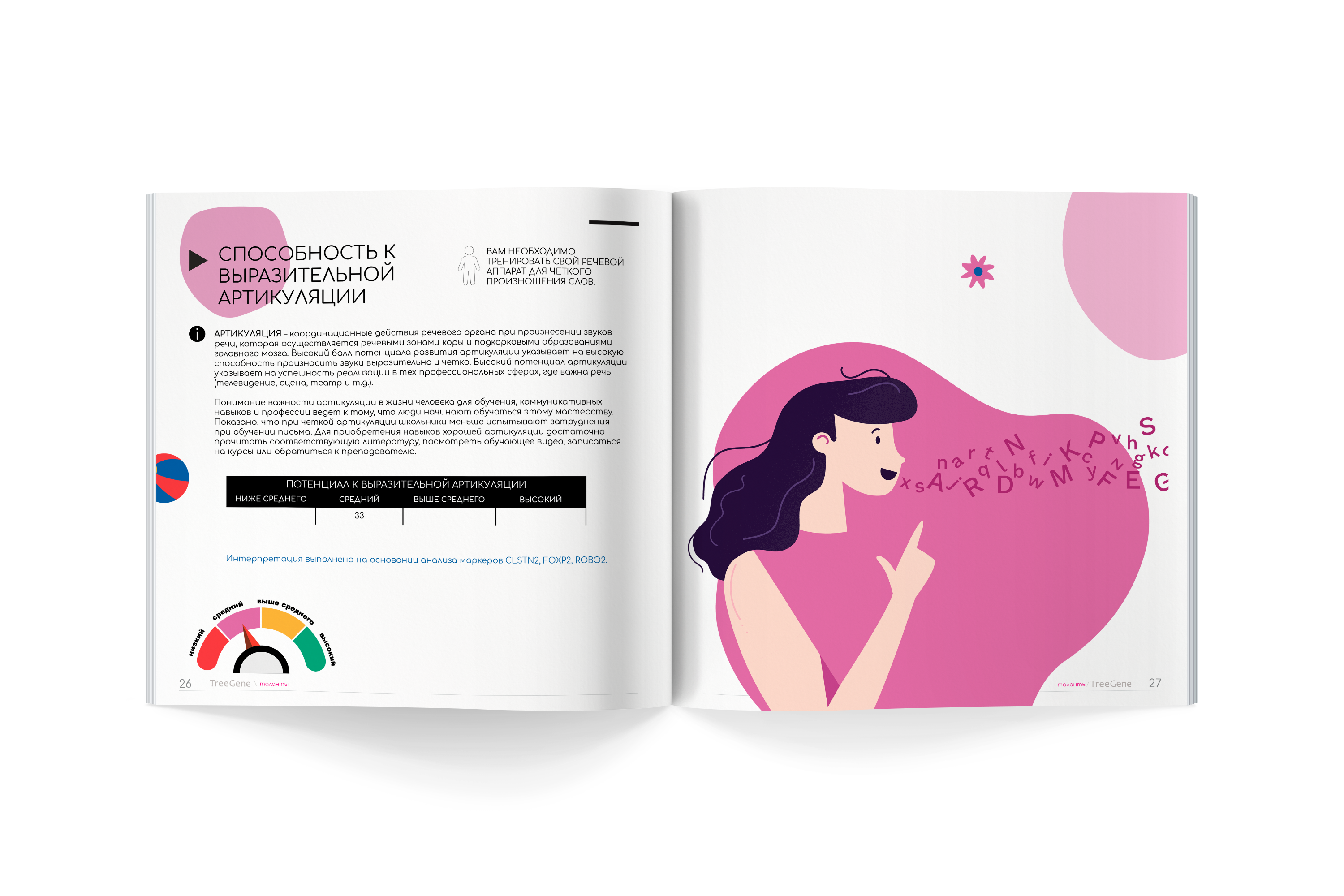 4. ARTICULATION
Articulation is the coordinated action of the speech organ in the production of speech sounds, which is carried out by the speech cortical and subcortical areas of the brain. A high articulation potential score indicates a high ability to pronounce sounds expressively and clearly.
5. WORKING STRESS
Work stress (work strain) is a painful psycho-emotional state formed in the course of work. The concept covers a large set of disorders, including depression, anxiety, post-traumatic stress disorder and other types of emotional disorders (dissatisfaction, rapid fatigue, etc.), inadequate behavior (aggression), memory or concentration disorders.
SECTION 3.
PERSONAL CHARACTERISTICS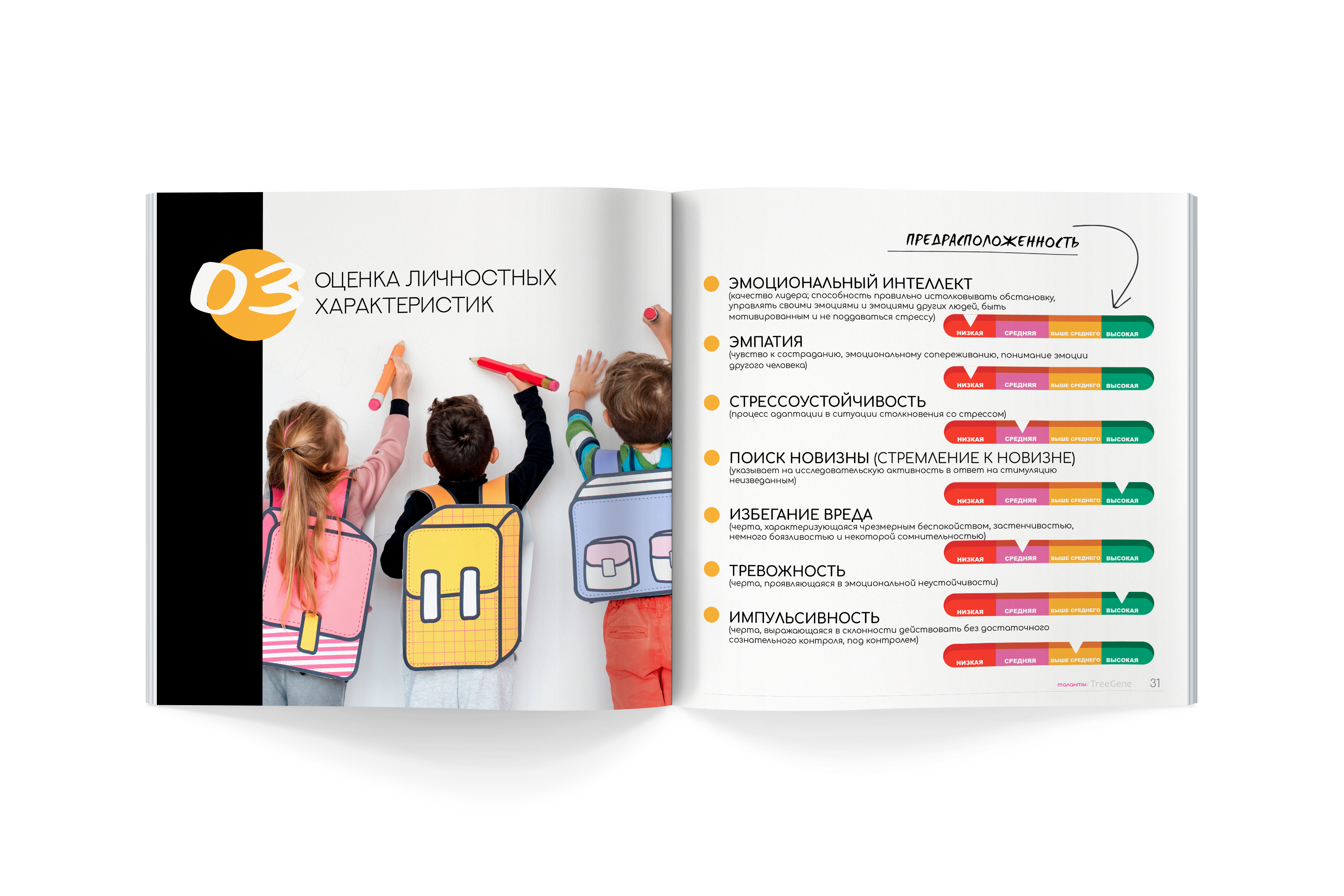 1. EMOTIONAL INTELLIGENCE
Emotional intelligence - the quality of a leader; the ability to correctly interpret the environment, manage their own emotions and the emotions of others, to be motivated and not to succumb to stress
2. EMPATHY
Empathy - a sense of compassion, emotional empathy, understanding another person's emotions
3. EXTRAVERSION
Extraversion is a property of the personality, characterizing its appeal to social communication, contact and lively interaction;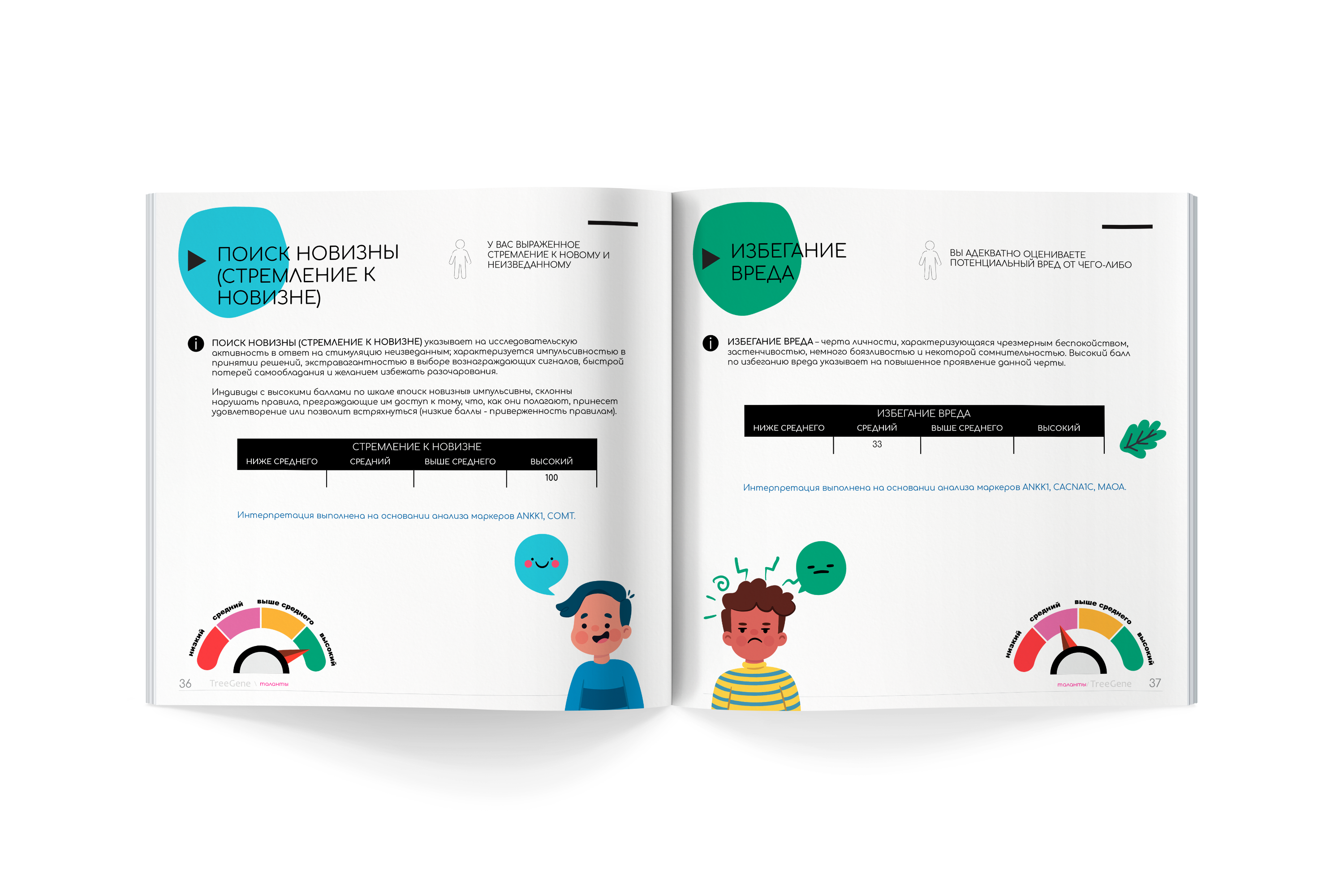 4. STRESS TOLERANCE
Stress tolerance - the process of adaptation in a situation of encountering stress
5. Seeking novelty (striving for novelty)
Search for novelty - indicates exploratory activity in response to stimulation by the unknown
6. AVOIDING HARM
Avoidance of harm is a trait characterized by excessive anxiety, shyness, a little fearfulness, and some doubtfulness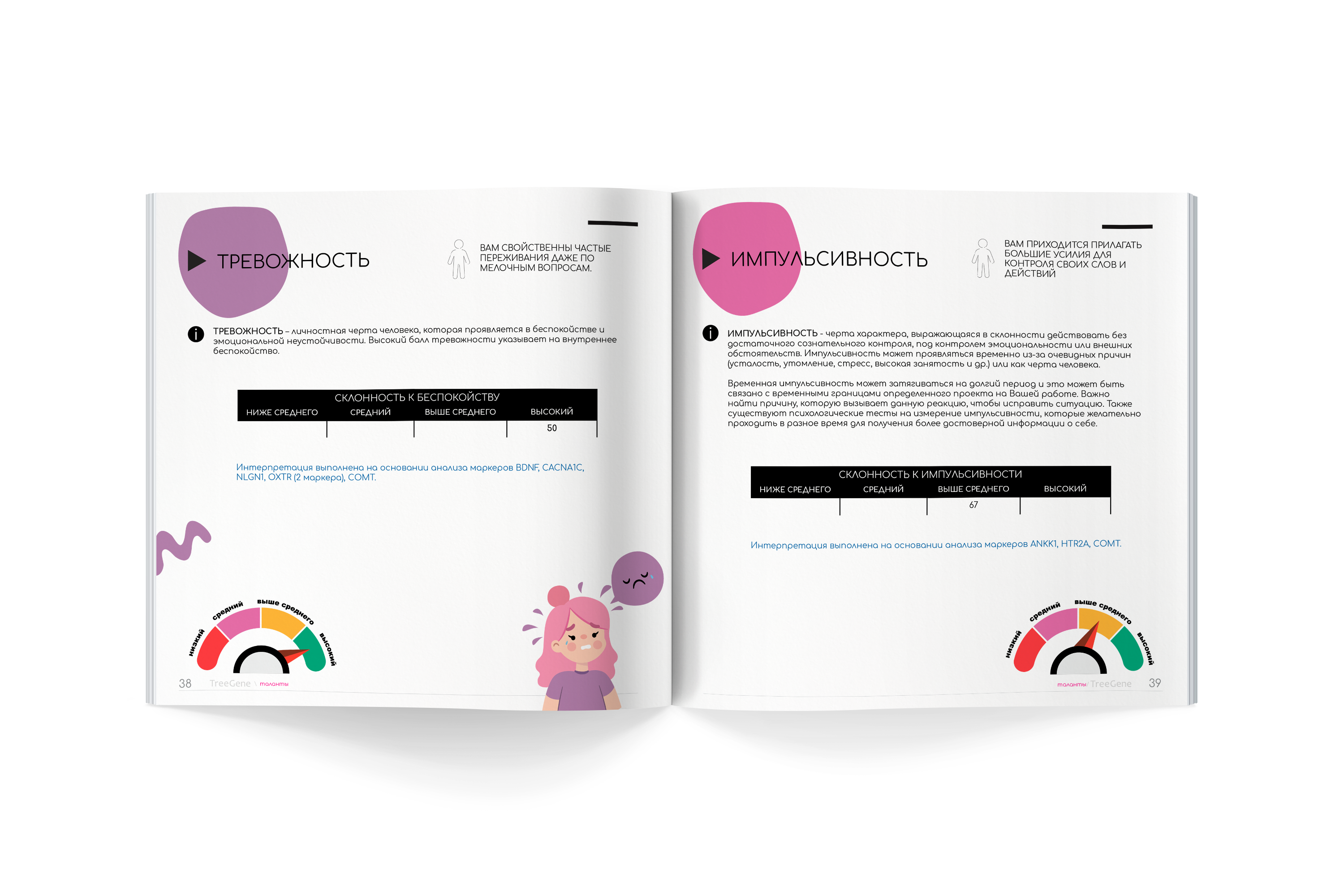 7. TREATMENT
Anxiety is a trait that manifests itself in emotional instability
8. IMPULSIVENESS
Impulsiveness is a trait that manifests itself in a tendency to act without sufficient conscious control, under control
9. AGRESSITY 
Aggressiveness is a manifestation of short-term emotional outbursts or a condition that manifests itself in open anger (verbal), resentment, temper tantrums, a desire for self-assertion at the expense of others.
SECTION 4.
STRENGTHS AND WEAKNESSES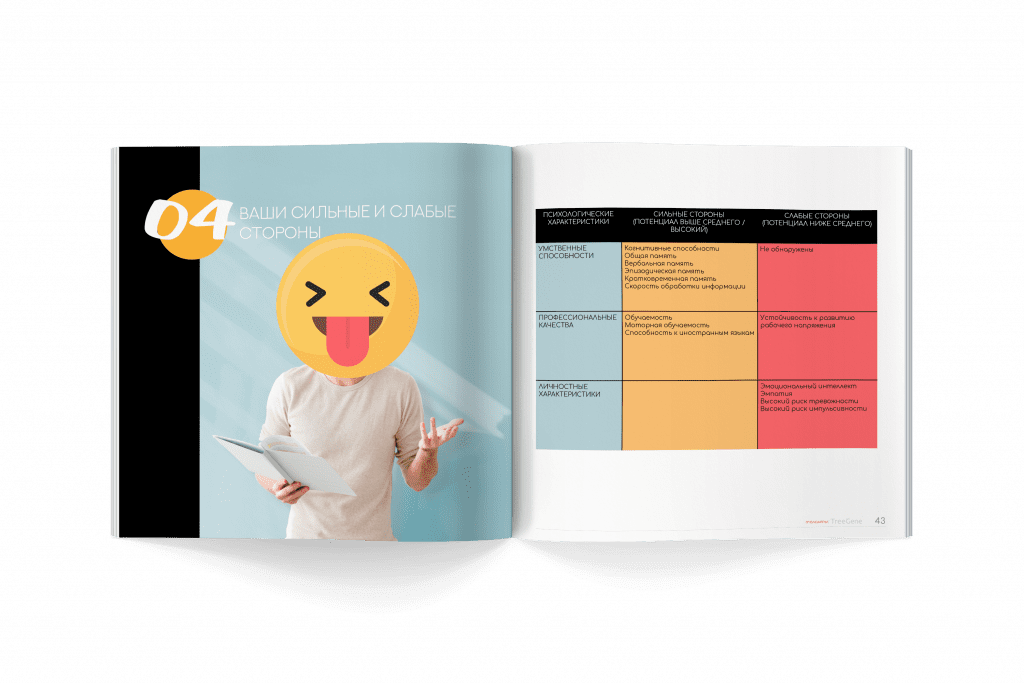 This section gives a visual general conclusion in the form of a table
SECTION 5.
PREDISPOSITION TO TYPES OF OCCUPATIONS
Low Potential - there may be considerable difficulty in mastering the profession;
Below average potential- there may be difficulties in mastering the profession;
Average Potential - You are capable of mastering the profession;
Above average potential - you are capable of mastering the profession and succeeding in it;
High potential - you are capable of becoming one of the best in the profession.
01
SIGN UP NOW 
Buccal epithelium (swab from the inner side of the cheek) in a way that is convenient for you
02
PAY
In cash, online, by card or via bank
03
SCORE
pick up in person/mail/texting in 10 business days
The main purpose of the analysis is to point out your strengths and weaknesses, your potential to develop mental and creative abilities.
The knowledge you gain about your genome can be taken into account in the choice

of teaching and ability development methods, as well as in career guidance

.
CHOOSE A SUCCESSFUL FUTURE FOR YOUR CHILD!
ORDER
DO YOU NEED A MORE DETAILED CONSULTATION?
Write down your phone number and we'll get back to you